11 Jul 2016
Some 3,000 abusers, rapists marry victims to avoid jail - Turkish appeals court
Up to 3,000 rapists and abusers in Turkey have married their victims in order to avoid prosecution, a senior official from the country's Supreme Court of Appeals has said, local media reports.
Speaking to the parliament's Sexual Abuse Prevention and Investigation Commission, set up to investigate sexual crimes, the head of the Supreme Court of Appeals department Mustafa Demirdag said kids as young as five years old could fall prey to sexual abuse. According to Demirdag, girls between 12 and 15 years old appeared to be more easily deceived by abusers.
The official said the number of officially registered marriages between the victims and their abusers had reached nearly 3,000, the Milliyet daily reported, adding that sentences of 16 years and eight months in prison were given in case where a complaint was filed.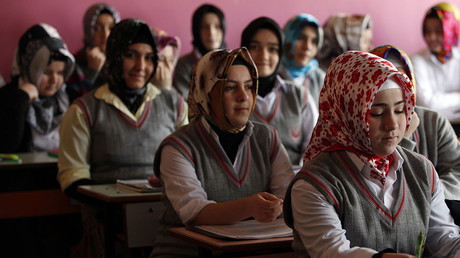 33% of Turkish marriages involve underage brides – women's rights advocate
Demirdag said that one of the testimonies received by the court reminded him of the plot of a popular Turkish TV drama series called "Fatmagül'ün suçu ne?" (What is Fatmagül's Crime?).
READ ALSO: Appeal court affirms 25 years jail term for Boko Haram convicts
"Three persons kidnaped a girl and raped her, but when one of them married her, the sentences for the three were lifted. It is an outrage to force someone to marry a person she does not want to marry and force her to live together for the rest of her life," Demirdag said.
Violence against women is a pressing issue in Turkey with over 300 women killed last year, usually by their husbands, boyfriends or other family members, Reuters reported, citing media reports.
President Recep Tayyip Erdogan described the issue as Turkey's "bleeding wound" after a 20-year-old woman, traveling home on a minibus in the province of Mersin, was stabbed and beaten to death trying to fight off a man trying to rape her. Ozgecan Aslan's brutal murder provoked public outrage and drew mass protests across Turkey. In December last year, three men were sentenced to life imprisonment for Aslan's murder. A lawyer for the girl's family, Efkan Bolac, said the ruling should serve as a precedent in Turkey, where courts are notorious for being too soft on men who kill women.
Turkey has long been plagued by allegations of domestic violence against women. A 2011 Human Rights Watch report, "'He Loves You, He Beats You': Family Violence in Turkey and Access to Protection," documented "brutal and long-lasting violence" in Turkey against "women and girls that in some cases lasted for decades, affecting several generations of women." Researchers said women and girls were "raped, stabbed, kicked in the abdomen when pregnant, beaten with hammers, sticks, branches, and hoses to the point of broken bones and fractured skulls. [They were] locked up with dogs or other animals, starved, shot with a stun gun, injected with poison, pushed off a roof and subjected to severe psychological violence." 
READ ALSO: China jails Christian pastor for 14 years: official
.